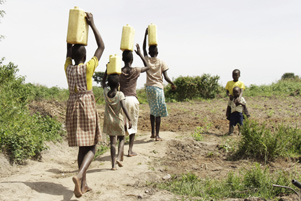 After further investigation, a report was recently issued on the safe recovery of three children who were kidnapped in December 2015. At the time of their captivity, it was believed they were abducted as a means of pressuring the family to return to Islam (read more). Their father, Madengho, who at the time was a recent convert to Christ, believed that Islamist militants had initially come to deal with him. When they couldn't locate Madengho, they took his young children instead: Musitafa, Amuza and Shakira.
After being held in an undisclosed location for almost two-and-a-half years, the children finally managed to escape on May 5th. Not knowing where they were going, the three siblings were found wandering the streets of a village approximately 80 kilometres from their home. The relative who discovered them at first couldn't recognize the children's identities due to their poor condition. According to reports, they were malnourished and had faced daily indoctrination in the Quran.
Since their homecoming, Musitafa, Amuza and Shakira have been provided counselling and nourishment. However, they continue to need physical and emotional healing. Even so, Madengho is extremely thankful for the blessing of his children's safe return while, at the same time, trusting the Lord for the restoration of their health and well-being. "Thank God for saving my children in a miraculous way," he declares. "The God who saved them is able to restore them back to a good, sound mind." Please remember this newly reunited family, specifically praying for the children's full recovery.