Country Information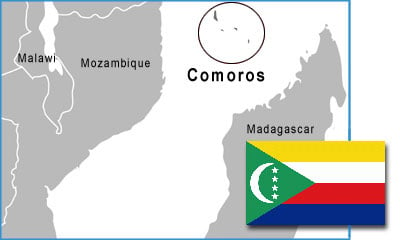 Designation
Persecuted
Population
864,335 (July 2021 est.)
Ethnicity
Antalote, Cafre, Makoa, Oimatsaha, Sakalava
Religion (%)
Muslim (98), Other (2)
Leader
President Azali Assoumani (2016)

Government type
Federal presidential republic
Legal system
Mixed legal system of Islamic religious law, the French civil code of 1975, and customary law
Sources: CIA World Factbook, U.S. State Department and Operation World.
Pray for Comoros
Ask God to give Christian foreigners within the country the boldness that they need to proclaim Christ, regardless of the consequences.
Pray that those who have left the country will come in contact with the Gospel, respond to Christ, and then bring the salvation message back home to their friends and families.
Ask God to minister to the indigenous Christians scattered throughout the country, bringing them encouragement, strength and access to the Word of God.
end