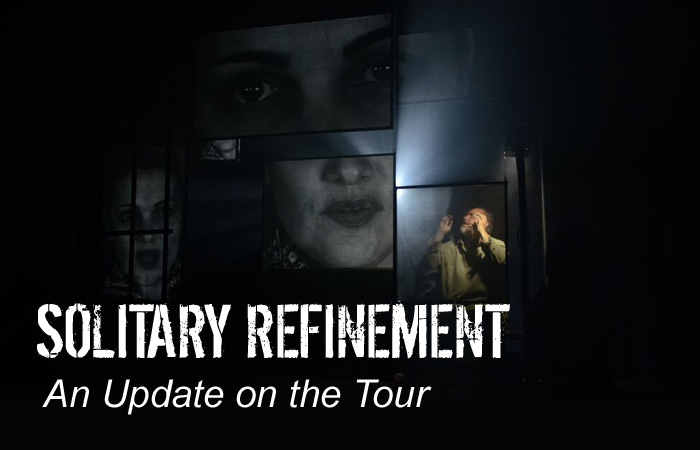 By Doug J. McKenzie
CEO for The Voice of the Martyrs Canada
Not long after my appointment to VOMC in 2012, I began examining the contents of our Canadian archives, particularly those pertaining to Rev. Wurmbrand's early beginnings of establishing the ministry, in an attempt to trace some of the history of the mission. While our Canadian founders, Klaas and Nellie Brobbel (est: 1971) of southern Ontario, remain foundational to our heritage, it was the near-incredible story and witness of the late Richard and Sabina Wurmbrand that further inspired me. To this day, the couple's testimony adds power to the mystique surrounding their survival, particularly that of Richard who -- for 14 years of evil incarceration, torture and confinement -- was able to supernaturally transfer what would otherwise have been hate and fear into joy and transcendence.
I happened to come across an old reel of black and white film depicting Richard as if he was in his solitary prison cell, and then it hit me.... We could create and present a one-man theatrical stage show that would tour around Canada through venue partnerships with Canadian churches that find the production compelling and appropriate to present to their congregations. It did not take long to "connect the dots" in realizing that such an inspiring message, conveyed artistically in one of today's most poignant vernaculars, would also address one of our most important mission objects, as expressed in our mission's name: to serve as a "voice" to the voiceless. By telling the stories of "the persecuted" to the churches of Canada, and others who have ears to hear, we will all be compelled to remember.
Having been officially launched in April of 2017, Solitary Refinement has since, in that remarkably short period of time, already been co-promoted in approximately 50 Canadian churches and counting. The response (all glory to God) has been wonderfully affirming, and real ministry is happening as congregants and guests are confronted with the reality of persecution against Christians in the world today. Our tour management office is handling a steady stream of church enquiries regarding potential presentations extending into 2019.
Unlike more commonly produced theatrical stage plays, Solitary Refinement is designed to draw members of the audience into an immersive experience, whereby they are invited into Richard Wurmbrand's prison cell. This is accomplished through the skillful use of special FX and surround sound technology, "haze" lighting, and the accompaniment of the production's original -- and I must add, quite stirring -- digital music score.
In 75 minutes, Richard is figuratively brought back to life, and from his cell he is given a "voice" to retell his story to today's generation, ending with a compelling challenge on behalf of those who, globally, are afflicted according to their profession of faith in Christ.
Solitary Refinement is now taking enquiries from Canadian churches for presentations across the country. The following coordinates (note VOMC's contact information below) will guide you to more information. We hope to see you in a convenient tour region and/or local church where the stage play may be performing, so you can take in the creative and dramatic mastery of our production, meet our ministry team as follows, and be moved to engagement in God's Kingdom. Come meet the members of our creative team in person:
Scriptwriter and Actor, Dennis Hassell
Director, Tom Carson
Composer, Tom Szczesniak
Set Designer, Eric Summerley
Executive Producer, Doug J. McKenzie,

CEO

for The Voice of the Martyrs Canada
Plus, our dedicated staff and volunteer members, as well as willing church or venue partners.
Thank you for your faithful and sustaining support of God's ministry at VOMC. May the Lord richly bless you and yours as we labour together in His harvest fields.
In Christ,

Doug J. McKenzie
Chief Executive Officer
The Voice of the Martyrs Canada Inc.
P.S. Please feel free to contact us for further information regarding our upcoming Solitary Refinement performances: visit our website or call our office number at 1-888-298-6423. We're looking forward to seeing you there!