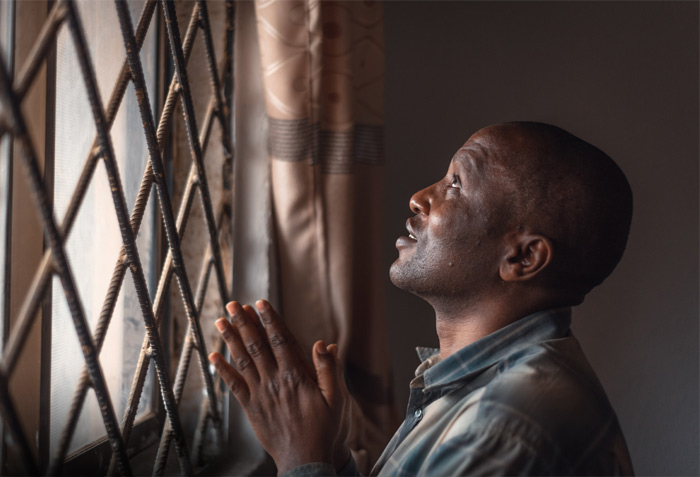 Praying to Rejoice in Suffering
"Then [the apostles] left the presence of the council, rejoicing that
they were counted worthy to suffer dishonour for the name."
Acts 5:41 ESV
People tend to equate the act of rejoicing with celebration. Loss, sickness and suffering of any kind do not naturally spark within the human heart a joyful response. And yet, throughout the Bible, we find the consistent message that rejoicing is not dependent on external circumstances, which in turn should never dictate nor limit one's capacity to be glad. The following verses (in context) highlight this truth throughout the Scriptures.
"Rejoice in the Lord always; again I will say, rejoice"

(Philippians 4:4)

.
"More than that, we rejoice in our sufferings, knowing that suffering produces endurance…"

(Romans 5:3)

.
"And Hannah prayed and said, 'My heart exults in the Lord; my strength is exalted in the Lord. My mouth derides my enemies, because I rejoice in Your salvation'"

(1 Samuel 2:1)

.
"A joyful heart is good medicine, but a crushed spirit dries up the bones"

(Proverbs 17:22)

.
Charles Swindoll, a well-known pastor, author and educator, states: "Rejoicing is clearly a spiritual command. To ignore it, I need to remind you, is disobedience." This statement may seem harsh to some. Disobedience? How can a person rejoice in circumstances so dreadful and dire that they have the potential to crush one's will, stymie hope and threaten life? To pray that Christians suffering for Christ will rejoice in their trauma and pain seems heartless, uncaring and unfeeling – especially when suggested by those who have not experienced the level of anguish many persecuted believers around the world are forced to endure. And yet, this Biblical directive cannot be ignored by all who call themselves Christians.
Pastor Richard Wurmbrand spent 14 years in a Communist prison, and much of that time in solitary confinement. He endured tortures and mistreatments so severe that they could have killed him. However, amid such miserable conditions, he proclaimed: "There's always a good reason to rejoice. There is a God in heaven and in the heart. I had a piece of bread this morning. It was so good! Look now, the sun is shining! And so many here love me! Every day you do not rejoice is a day lost!"
An important characteristic of Godly living in Christ Jesus is thankfulness. Such thankfulness finds expression despite the onslaught of troubling circumstances because it resides in the recesses of the heart and offers true sacrifices of worship to God. Note that a heart of thankfulness can only be achieved by depending on Christ, and not on one's ability to 'suck it up,' 'pull it together,' or 'turn that frown upside down.' In Acts 5:41, the disciples didn't rejoice because they suffered, but rather because they were counted worthy to suffer for Christ. Their suffering wasn't meaningless, nor without purpose. From that perspective, they could rejoice and trust their lives to the sovereign will of the Lord.
One night, two persecuted Christians found themselves in a dark prison cell. They had been arrested for their missionary activities and were awaiting trial. They whispered encouraging words to each other. Circumstances looked bleak, but they chose to trust in the Lord. Soon their quiet conversation turned into a powerful time of prayer and the joyful singing of hymns with hearts filled with praise. It's incredible how worship can change the atmosphere in the most unlikely places, and how the resulting hope that comes with God's comforting presence displaces despair. Even the hearts of the unbelieving prisoners – those who had been arrested for other crimes – were deeply moved as they listened to the Christians' sweet hymns of adoration.
Suddenly, the earth began to shake, prison walls began to tremble, the shackling chains restraining the prisoners fell off, and the heavy doors that securely locked them within the confines of the dungeon burst open. Could it be that God had heard their 'sacrifices of praise' and now miraculously provided them a way of escape? Who wouldn't jump at this opportunity? Except, that's not what the two prisoners did. For whenever one worships in spirit and truth, the externals fade in the background as hearts and minds encounter the 'Lord of Life.' I believe that during this divine encounter, the two Christian prisoners knew that God's power was not for their immediate escape in this case, but rather to accomplish the greater things He was doing in their midst and all that He was yet still to do.
By now, you no doubt recognize the story of Paul and Silas from Acts 16. As you read further, you will recall that the jailor assumed all the prisoners had fled and, because of this dreaded outcome, he would be held responsible. So, instead of facing the consequences, the distraught jailor had contemplated suicide. Paul quickly informed him that every prisoner was assuredly present; and despite the opportunity to flee, they had remained in their cells. Immediately, the grateful jailor came to Paul and Silas asking how he could be saved. That night, the two worshipping persecuted Christians rejoiced with the jailor and his entire family as they expressed true belief in God and were subsequently baptized.
At some point in this life, every Christian will face persecution. A number of believers will experience the "light rains" of affliction, while others will endure the much heavier storms of oppression. Regardless of the type or severity of suffering encountered, each disciple of Christ must seek comfort in their personal relationship with Him and rejoice in the greater purposes and promises of our faithful God. Therefore, I encourage you to pray John 15:11 each day – asking for the Spirit of Christ to be manifested within your life so that your joy may be complete.
"Rejoice in glorious hope!
Our Lord and Judge shall come
And take His servants up
To their eternal home:
Lift up your heart, lift up your voice!
Rejoice, again I say, rejoice!" 1
Likewise, may the joy of Christ not only comfort and sustain our persecuted brothers and sisters in Christ, but may it also produce Kingdom fruit for the additional benefit of blessing all within their sphere of influence – including their persecutors.
Endnote:
1 Charles Wesley, Rejoice, the Lord is King, 1744.