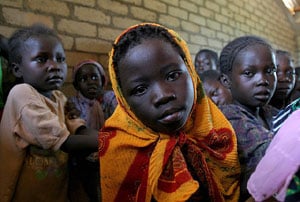 The innocent people of this country need our prayers.
Photo: Flickr / hdptcar
Christians in the Central African Republic are being targeted by Islamist militants who violently seized control of the country on March 24th. Although many have been killed or seriously wounded in the violence, others are being tied up, beaten and forced to hand over money to save their lives.
A pastor reports that this "reign of terror" is being conducted against Christians by the Seleka rebels. The church leader further explains that the rebels have a hit list of pastors and other Christian workers, and that places of worship are being attacked. Christian property is also being looted. As a result of the persecution, many Christians have fled to the countryside and are too fearful to return to their homes. More than 200,000 people are internally displaced, while 49,000 refugees have been registered in neighbouring countries.
On May 10th, Human Rights Watch released a report citing "grave violations" committed by the Seleka rebels against civilians, including pillage, summary executions, rape and torture. The organization also made reference to an attack on a funeral procession on the Ngaragba Bridge in Bangui on April 13th. As Seleka forces opened fire on the grieving crowd, a church leader was killed as he appealed for peace. An eyewitness vividly recalls the horrific event: "[The pastor] walked toward the Seleka elements on their pick-up, raising a Bible in his hand and calling to stop shooting.... [He] was shot dead by two Seleka fighters."
The crisis in the Central African Republic has largely slipped under the radar of the world's media, and the predominantly Christian population there feels abandoned by the international community.
Thankfully, God is aware of this serious situation, and He is calling us to intercede on behalf of the people in the Central African Republic. May all who have been victimized by the brutal attacks receive His healing, peace and comfort. Let us also pray for the perpetrators, who themselves are being wrongly influenced by 'the enemy of our souls' ...the one ultimately seeking to destroy all of God's creation. May they come to realize the serious consequences of their actions if they don't repent and turn from their wicked ways.