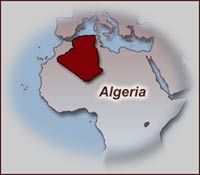 In February, Middle East Concern (MEC) requested prayer from Christians around the world on behalf of Christians facing court hearings and awaiting official verdicts in Algeria (
click here
for more information). On March 4, they requested prayer for three items. First, one Christian brother had a court hearing scheduled for Wednesday, March 5. The believer concerned had been told informally that he would be sentenced to one year in prison and fined. On March 6, MEC happily reported that he had been acquitted.
According to MEC, two other items require your prayers. The written verdicts for three Christian men accused of insulting Islam was expected on February 12 but has still not been received. They have been told informally that they will be sentenced to prison and fined. Another brother has a hearing scheduled for April 2.
Christians in Algeria ask that we continue to pray that our three brothers awaiting a written verdict will not be sentenced to jail and that the brother involved in the hearing on April 2 will be acquitted. Please pray that the media attention will have a positive impact on the church, drawing more people to respond to the love and truth of Jesus. Pray also that fellowships recently closed in Algeria will be allowed to reopen and that believers will find worship and fellowship with others. Pray that God will provide pastors for the groups of Christian migrant workers in the country. Finally, pray that Algerian officials will hear the gospel of Jesus Christ and respond to His love.
To learn more about the increasing pressure being put on Christians in Algeria, go to the Algeria Country Report.