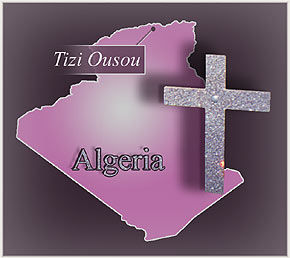 On March 9, police ordered two Algerian churches to cease activity, according to a March 17 report from Compass Direct. Police notified Pastor Salah Chalah to close his 1200 member Full-Gospel Church in Tizi Ouzou, 100 kilometers east of the capital Algiers. Similarly, security officials issued notice to a second pastor, Mustapha Krireche, to close down his church in Tizi Ouzou's Nouvelle Ville district.
The written closure notice demanded that the churches conform to articles of a law governing non-Muslim worship but did not make clear how the churches had violated it. Passed two years ago, the law forbids attempts to convert Muslims to other religions and bans the production of media intended to "shake the faith of a Muslim." According to Compass Direct, as all Algerian Christians are converts from Islam, the new law could be interpreted to make nearly all churches in the country illegal. The Algerian government has ordered 10 churches closed since November.
Pray that the leaders and members of these churches will find peace and comfort in Christ as they face opposition for His Name. Ask God to provide wisdom and guidance to the leaders of the churches to find ways to nurture their congregations, and equip them to share the message of Christ with the lost (Hebrews 10:23-25).
Learn more about the increasing pressure being put on Algerian Christians in Algeria's Country Report.