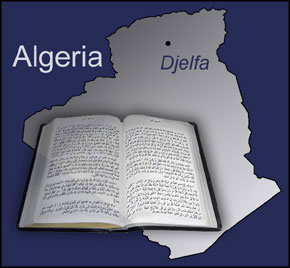 An Algerian Christian detained for five days for carrying a Bible and personal Bible study books was given a one-year suspended prison sentence and a $460 CAD fine on April 29, according to a May 9 report from Compass Direct. A court in Djelfa, 240 km south of Algiers, charged the 33-year-old Christian who converted from Islam with "printing, storing and distributing illegal religious material." The believer, who requested anonymity for security reasons, told fellow Christians in his home city of Tiaret that police pressured him to return to Islam while in custody.
The conviction is the latest in a wave of detentions and court cases against Algeria's Christians. Since January, police and provincial officials have ordered the closure of up to half of the country's 50 estimated Christian congregations.
Pray for the Algerian Christian to find joy and peace in Christ in the midst of opposition for his allegiance to Christ (Acts 5:41). Pray that God will embolden Algerian Christians to spread the Gospel in their nation.
For more information about persecution facing Christians in Algeria, visit Algeria's Country Report.