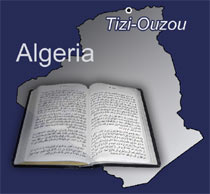 Approximately 50 Muslims blocked a congregation of converts from Islam from holding a Christmas service in the city of Tizi-Ouzou, northern Algeria on December 26. Members of the Tafat Church were gathering for the meeting when they were confronted by protestors who barred the church building's doors. "This land is the land of Islam! Go pray somewhere else," some of the protestors allegedly said. The pastor was also threatened with death. The protestors stayed outside the church until December 28. Some of them broke into the new building and stole microphones and speakers. The building's electricity was also cut off.
The believers, who used to meet together in a small rented building, have been gathering in a new building since November to accommodate nearly 350 congregants. A few weeks before the Christmas service attack, community residents signed a petition saying they did not want the church to operate near their homes and wanted it to close. Local authorities presented the petition to the church, which is legally authorized to exist under the Protestant Church of Algeria, but the believers reportedly do not plan to respond to the document. (Source: Compass Direct)
Pray that these Christians will remain committed to their faith. Pray that freedom of religion will be upheld by Algerian officials. Pray that the ministry of churches in Algeria will continue and that the Gospel will be preached throughout the nation.
For more on the suffering of believers in Algeria, click here.