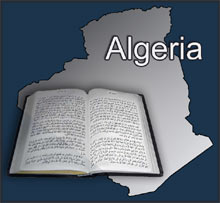 On October 5, a court in the Kabylie region of Algeria acquitted Christian converts Hocine Hocini and Salem Fellak of the charge of "non-compliance with a precept of Islam." They had been arrested for eating lunch during Ramadan. During this and an earlier trial, hundreds of concerned citizens and civil society groups stood alongside Christians in a display of public solidarity to protest growing intolerance and abuse of power.
On October 10, four Protestant leaders will face court on the charge of "practicing non-Muslim worship without authorization." The fellowship led by Pastor Yahou Mahmoud and elders Raid Abdenour, Mokrani Nacer and Haouedj Idir is affiliated with the Protestant Church of Algeria, a large nationally accredited denomination. (Source: Australian Evangelical Alliance Religious Liberty Commission)
Thank the Lord for the outcome for Hocine Hocini and Salem Fellak, and for the support from the many citizens across the nation. Pray the Lord will be with the church leaders who will soon face court. May they speak with confidence as the Lord gives them the right words when they are questioned (Matthew 10: 19-20). Pray the Lord will use this case to strengthen His church and further the Gospel in Algeria.
Please visit the Algeria Country Report for more information on the plight of believers in Algeria.