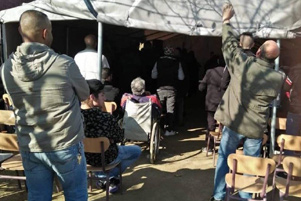 After months of civil unrest, Algerian president Abdelaziz Bouteflika stepped down on April 2nd. Unfortunately, his abdication of leadership did not end the unrest, as the people demanded for all those who served under his governance to also resign and for a democratic election to take place very soon.
Thus far, the protests have been peaceful but there is fear that the situation may degrade. The protesters want to avoid repeating the scenario experienced in other countries during the so-called Arabic Spring, which started in late 2010. Wounds from long years of civil war are still vivid in the spirit of many Algerians.
In recent days, a national VOMC source has reported that local Algerian authorities are targeting the country's churches. An Algerian Christian leader, who was accused of conducting an illegal worship service without prior permit, has been ordered to appear before a judge on May 16th. Two other church leaders in the villages of Makouda and Boudjima have also been summoned on similar charges.
Please intercede for these churches in Algeria as they face opposition from governmental authorities. Pray that the country's citizens will find peace and establish a democratic government that respects the rights of all people -- including those of the Christian faith. May the accusations made against the church leaders be dropped, allowing the Gospel to continue ministering throughout Algeria without provocation or hindrance.