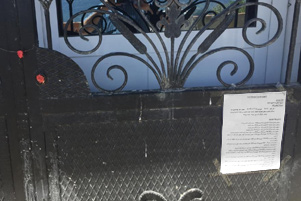 A church in the town of Boudjima of northern Algeria was closed by authorities on May 22nd, along with its associated Bible school. According to Pastor Youcef Ourahmane, the church had applied for a permit but, as usual, there had been no response.
On the day of the closure, Pastor Youcef was summoned to the church where he was informed by the gendarmes that the governor had ordered for it to be sealed. The officers at the scene apologized for what they were doing, saying, "We are only the executors."
Pastor Youcef serves as Vice President of the Protestant Church of Algeria, which oversees the operation of 45 churches across the country. Since November 2017, several associated churches have also received orders to cease their operations.
Continue to pray for all the churches throughout Algeria that are facing imminent closure. May these congregations find ways to continue meeting together peacefully for needed times of fellowship and worship. Ask God to grant Pastor Youcef and others of his organization guidance as they try to wisely navigate through these challenging times. In addition, pray for the country's governing leaders and authorities who themselves are in need of God's intervention. May the country's Christians be a testimony of His salvation and transformative power to the officials initiating the closures, as well as those who are implementing them.