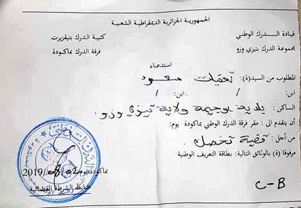 On August 6th, a church in Bouidjima was officially closed by the National Gendarmerie for failing to have a permit. A government mandate, requiring permits for all churches, was issued in 2006. Yet, even though applications have been properly submitted, the requested permits were not issued. One Algerian church leader refers to the officials' implementation of such authorization as only a pretext, further surmising that "their goal is to end the church in Algeria."
The church's pastor, Messaoud Takilt, received notification of the closure only three days prior, giving the members limited time to vacate the building. On the closing day, they gathered for worship. When police arrived, the pastor convinced the officers to leave until after the completion of the service, at which time the building was officially sealed. To learn more about the challenges facing believers in Algeria, go to the country report.
Pray for the members of this congregation and those of other Algerian churches facing similar uncertainty and oppression. Ask God to imbue these Christians with strength and wisdom so they can continue reaching out with His love and grace. May the authorities be willing to treat them fairly by issuing requested permits and ceasing from all manner of oppression. Regardless of the current challenges, pray that the country's believers will remain faithful.