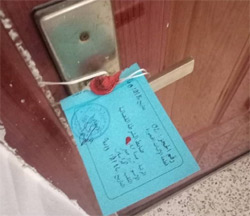 Algerian Christians request ongoing prayer as the government continues its campaign against churches. On September 25th, the leaders of a church in Tigzirt were informed that their building was to be closed. Police officially sealed it the following day. Along with worship services, the building had also been used as a Bible school since 2013.
Just prior to the Tigzirt closure, the police director representing the town of Boghni announced to community members on September 24th that their church building had been sealed, based on an order from September 18th. With these two recent closures, at total of nine churches affiliated with the l'Église Protestante d'Algérie have now been sealed since the campaign started in November 2017. Another four church groups were ordered to cease activities as well. For more details on the persecution of Christians in Algeria, visit our country report.
Remember the pastoral leaders and members of these churches in your prayers as they seek the Lord's guidance in the days to come. Pray that Algeria's governing authorities will allow freedom of worship throughout the country. In the meantime, may these congregations find ways to continue meeting together for needed fellowship and encouragement in the faith (Hebrews 10:24), and that the message of the Gospel of Christ will continue to reach many more Algerians who are searching for spiritual truth.