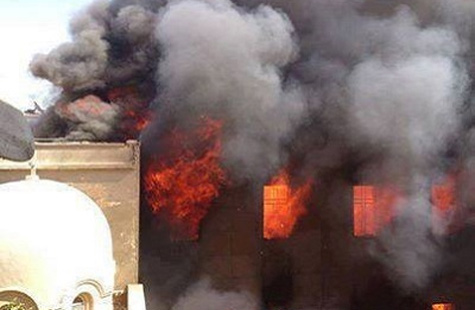 A church set on fire in Upper Egypt
Photo: AINA



After weeks of rampages by the supporters of the ousted Islamist president, Mohamed Morsi, many Christian properties in Egypt were left in extreme disrepair. The attacks began on August 14th, shortly after Cairo police dispersed two pro-Morsi protest camps. Blaming Christians for requesting the police presence, the protesters fled to neighbouring communities where they spray-painted Christian buildings with black "X" marks. Before emergency crews arrived, most of the marked buildings had been torched.
Some scholars believe this outrageous onslaught of violence represents the greatest attack on Egyptian Christians in 700 years. More than 30 Christian houses were set on fire. At least two Christian schools were attacked. When the Christ Soldiers orphanage was destroyed, about 200 children were left homeless. The assailants also burnt three branches of the Bible Society bookstore. In fact, all businesses having any affiliation with Christians were in jeopardy.
The greatest level of damage, in both severity and scope, was inflicted on churches. More than 60 have been attacked, with varying degrees of damage. One of the most heavily damaged churches, the Amir Tadros church in Minya, was completely gutted. Engineers plan to demolish the building and, if adequate funding is available, hope to rebuild it. The congregation continues to meet at a nearby alcove at 6:30 a.m. when violence is less likely to occur. This is a valid concern considering that at least 500 civilians (along with 43 police officers) have lost their lives and thousands more have been injured. A brief four-minute video clip on this current situation is available on this page. For a previous written report, you may click here.
In the midst of all the destruction and chaos, may God's peace reign supreme in the hearts of His people. For those who have tragically lost dear loved ones as a result of the vicious attacks, may His comforting presence be a reminder of the eternal promise that lies ahead. May these Egyptian believers continue to trust in God's sovereignty, remain obedient to His teachings, and be granted the grace to respond in a manner of love. Through the unwavering witness of Egypt's Christian community, and the workings of His Holy Spirit, may God work mightily in the country -- also touching the hearts of those committing the violent acts.