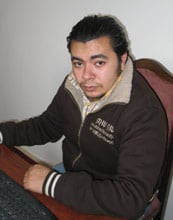 Mohammed Hegazy



Bishoy Armia Boulous -- who formerly went by the name Mohammed Hegazy -- was sentenced on June 18th to five years in prison for "disturbing the peace by broadcasting false information on...an evangelism (TV) channel." Bishoy was also sentenced to pay 500 Egyptian pounds (approximately $75 CAD).
While carrying a camera and four flash drives, Bishoy was arrested on December 4th of last year in Minya, Upper Egypt. At the time, security forces claimed he was contributing to a "false image" that there is violence being perpetrated against Christians in Minya. (For more information on his arrest, click here.)
Bishoy's attorney, however, asserts that the 31-year-old Christian is innocent. "He did not commit a crime," he explains. "Even if he did take some photos or videos of a protest, that is legal. Even if he was doing it for a newspaper, that is legal." The defending lawyer believes that the sentence actually comes as a result of Bishoy's conversion from Islam to Christianity. The accused believer has faced ongoing persecution since 2007, the year he tried to legally change the religious identity on his official ID.
There remains fear that Bishoy is facing physical abuse while in prison, and his lawyer has confirmed that his client "has been treated in an inhumane way." While an appeal process can begin in about a month's time, Bishoy's legal team believes that an appeal is unlikely to be accepted.
Please bring this case to our Lord in prayer, asking that His Holy Spirit personally and powerfully minister to Bishoy in his time of need. Pray that this young man will be treated with kindness and respect by prison guards and fellow inmates. May he also be presented with opportunities to share his faith with those who do not yet know the Living God. Please also pray that the Lord will bless Bishoy's legal team with wisdom and endurance as they advocate on his behalf. Also remember in prayer Bishoy's wife and their two children, who are living in an undisclosed country in Europe. May God grant them peace during this most unsettling time