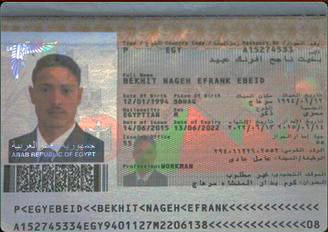 Passport photo of Bakhit
Photo: Morning Star News
Travelling to Libya to be a migrant worker is considered "a quest for the insane" because of the extreme danger involved, according to Ezz Tawfik, a Coptic journalist in Upper Egypt. Yet, in spite of the potential harm, crushing poverty in Egypt drives many, like Bakhit Nageh Efrank Ebeid, 21, to risk their lives in hopes of providing food for their families. That's why he set out from Kom Badar, Egypt, for Tripoli, Libya.
Bakhit was travelling with two other Christians, Adeola Ibrahim of Nigeria and Sekyere Kofi Frimpong of Ghana, as well as a group of Muslims. His family last heard from him on July 10th. "He told them...that he is with a group and it would be safe," Ezz reports. Apparently, it was not the case, for that same day ISIS militants stopped the travellers in Sirte, Libya, and the three Christian men were taken captive.
On July 17th, Libyan affiliates of the notorious terrorist group released evidence claiming the kidnapping of the three Christians. Conflicting rumours concerning the status of the abducted men continue to spread in the Egyptian media. In the midst of this, Bakhit's Coptic Christian family say they have turned to God, hoping that Bakhit is still alive. They attempted to contact him via his cell phone, but the call was intercepted by a member of ISIS who announced that the "infidel" was beheaded. During a subsequent call, the family learned that Bakhit was required to pay a ransom, convert to Islam, or be killed. They offered to pay but were not told an amount. Nothing is known concerning the other two Christians.
The inhumane operations of ISIS in Libya have precipitated the kidnapping and killing of innocent Christians, as revealed in posted graphic videos. One depicts the gruesome beheadings of 21 men, consisting of 20 Egyptian Christians and a man from Ghana. (A VOMC report on the situation is available at this page.) Another reveals the killing of approximately 30 Ethiopian Christians thought to be migrant workers.
Impoverished, uneducated, unemployed and engaged to be married, Bakhit's options were limited: travel to Libya, starve or become a thief. He took a chance in hopes of reaching the relative safety of Tripoli.
Please pray for God's divine intervention and deliverance on behalf of Bakhit, Adeola and Sekyere, and for His comfort and peace to be upon their concerned loved ones. Additionally, ask the Lord to adequately provide for these impoverished families' needs. Meanwhile, may the authorities be granted wisdom as they stand against ISIS and strategize the rescue of the abducted men. Also, let us be mindful of the need to intercede for the members of the terrorist group, that their hearts be so dramatically transformed by Christ they become 'militant' in the reflection of His love, extension of His mercy, and bold proclamation of the Gospel!