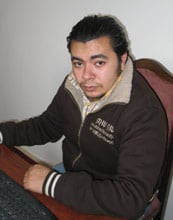 Bishoy Boulous
Please pray for Christian prisoner of faith Bishoy Armia Boulous, who remains behind bars even after the Egyptian government released 100 prisoners in an amnesty. Among those officially pardoned by Egyptian President Abdel Fattah al-Sisi were two Al Jazeera journalists jailed after reporting unrest in 2013.
While Bishoy was detained for reporting attacks on churches in Upper Egypt, he has officially served his sentence and should have been released back in May. The young husband and father has also been charged with "blasphemy" over his attempt to change the religious status of his ID card. Bishoy's lawyer asserts that the time allotted for investigations into this charge has elapsed and, therefore, a formal complaint has been filed with Egypt's attorney general about his client's ill-treatment and continued detention.
Bishoy, also known by his former name, Mohamed Hegazy, was raised as a Muslim before his conversion. He was arrested in December of 2013 during a period of anti-Christian violence in Minya. The security service claimed he was working for The Way TV, an American-based channel. A video clip explaining more about Bishoy's situation can be viewed at this page.
Join us in praying that the authorities in Egypt will look favourably upon Bishoy's case, duly granting him release from imprisonment. In the interim, may the Lord mightily strengthen and use this spiritually fervent young man by providing divinely appointed opportunities to share the Gospel, for which he faithfully suffers, with other prisoners and guards who are in need of God's hope and salvation. Pray that Bishoy, his wife and children will have the comforting assurance that the Lord is working out His far greater plans in this situation and, at the same time, also in the lives of those who have yet to receive Him.
Consider writing a letter of encouragement to Bishoy and/or another Christian prisoner today. More information can be found at this page.