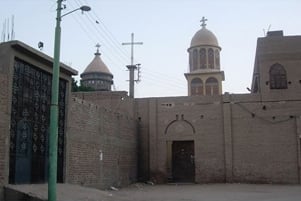 An attack by a mob of Muslim militants in the village of Menbal left Coptic Christians hiding in their homes while security forces patrolled the streets in an effort to restore peace. At last report, the situation in the village 225 kilometres south of Cairo remained tense.
The violence began after Muslim villagers accused one of the Copts of publishing a Facebook post which insulted Islam. In the July 5th post, Abdo Adel compared Muhammad with Jesus. As a result of the post, charges were filed against him and he was remanded in custody pending further investigation.
On the evening of July 9th, villagers began pelting the Coptic-owned homes with stones and bricks while shouting and chanting. Some of the victims suffered minor injuries. Attackers attempted to break into a church but were stopped when security forces fired into the air. Regional security officers had to be called to help stop the violence.
After security forces were finally able to restore order, a curfew was imposed from 8 p.m. to 8 a.m. Police have arrested 90 Muslim villagers. Friends of Abdo explain that he is not very literate, resulting in a post that he did not fully understand: "He is not good at reading and writing, and he is not good at dealing with his Facebook page in the best way, which put him and the village in this crisis."
Pray that peace will be fully restored in the area, and that any hard feelings between villagers will be replaced with compassion, forgiveness and understanding. Pray that these victimized Christians will be able to use this situation as an opportunity to share the love of Christ with those around them. Pray that justice will be done for those responsible for the violence.