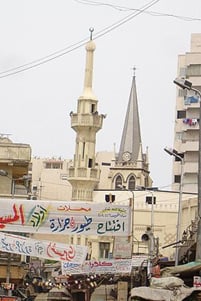 As churches in Egypt prepared for Christmas celebrations on January 7th, terrorists in Nasr City near Cairo plotted an attack against the worshippers. Multiple bombs were placed on a roof near a church in the city with the intention of detonating them on Christmas Day.
A Muslim imam in a mosque across the street saw what was happening and alerted the police. As the bombs, described as "highly complex and explosive," were being disarmed by explosive experts, one of them detonated -- accidentally killing an officer by the name of Mustafa Abid. Two other officers and an onlooker were also injured. It is expected that the casualty rate would have been significantly higher had the bomb exploded when the building was full of worshippers.
While thankful that the bombs were discovered in time, please pray for the healing of those who were injured at the scene. Also uphold the family, friends and co-workers of the slain officer, Mustafa Abid, as they grieve their tragic loss. May there be a continued unified effort of citizens throughout Egypt, as they work together despite their differences, in the stand against terrorism.