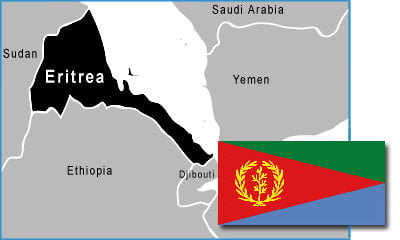 In 1952, Eritrea joined Ethiopia as part of a federation. When Ethiopia annexed Eritrea as a province 10 years later, a struggle for independence began that ended with victory by the Eritrean rebels in 1991. In 1998, a border war with Ethiopia began, ending with intervention from the U.N. in December 2000 and a peace agreement.
There was a general freedom to practice religion in Eritrea until 2002, when the government announced it would recognize only four religious communities: the Orthodox Church of Eritrea, Sunni Islam, the Roman Catholic Church and the Lutheran-affiliated Evangelical Church of Eritrea.
From 2002 to 2010, the government has jailed, tortured and killed numerous Eritreans for political and religious reasons, and tortured and killed many of them extra-judicially. Today, it is estimated that between 2,000 and 3,000 Christians are in Eritrean prisons. Believers face deplorable conditions, including torture. Many are held in metal shipping containers with no ventilation or toilet facilities.
A November 2010 religious liberty report says that Eritrean President Isaias Afewerki wants to restrict and pre-empt any formation of people's association. He fears that religious freedom will lead to evangelism by Christian groups and thereby cause social tensions that can be exploited by "outside forces" to destabilize the nation. Additionally, he views democracy as a threat to the nation's unity and stability.
Despite open persecution, the government continues to support its statement issued in May 2003 that "no groups or persons are persecuted in Eritrea for their beliefs or religion." Of thousands of Christians in detention, not one has been charged with a crime or faced trial. While concerns over Christian persecution have been raised at various international forums, there has been little change in the attitude and policy of the one-party government.