Minister at Large, The Voice of the Martyrs Canada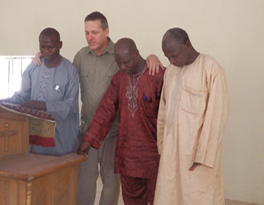 Based in St. Albert, Alberta, Greg began full time ministry with The Voice of the Martyrs Canada in 2003 years after 3 years as a volunteer. During that time, he has reported from restricted and hostile nations in Africa, Europe, Asia, South America and the Middle East and has interviewed hundreds of persecuted Christians.
Along with being interviewed on numerous television and radio programs in Canada and the U.S, Greg produces video documentaries, radio and television programs. Greg is active in sharing the message of the persecuted church in churches, college campuses, and conferences across Canada. He has also spoken in many churches around the world. Greg also released his first book Closer to the Fire, Lessons from the Persecuted Church in 2012.
Greg is also a co-host on the daily Christian television program 100 Huntley Street which is broadcast across Canada.
Born and raised in British Columbia, Greg became a Christian when he was 23 while living in Edmonton. Married for the past 34 years and father of four adult children, Greg is an ordained minister and has served as a pastor in Alberta and Manitoba, and in Christian media ministries. He also worked in television as a sports anchor and reporter.
A graduate of Northwest Bible College (Edmonton, 1990), Greg also attended the Columbia School of Broadcasting (Vancouver, 1976).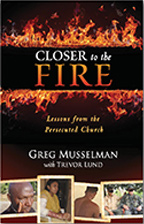 Closer to the Fire: Lessons from the Persecuted Church
We often feel so far removed from persecution in North America that it can be hard to relate to those suffering for their faith. In Closer to the Fire, journey with VOM's Greg Musselman as he introduces Christians he has interviewed from around the world and shares how their stories of faithfulness amid persecution have impacted his life. This book will help you connect with and learn from our brothers and sisters who face opposition today for Christ's sake.