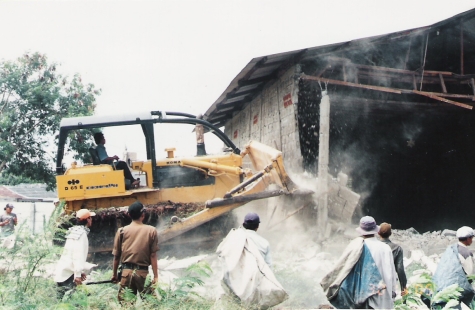 Government sent bulldozers to destroy church buildings
in Indonesia's Tangerang county in 2005.
On Sunday, September 25, a suicide bomber detonated eight pipe bombs by the main door of the Bethel Full Gospel Church in Solo, Central Java as worshippers were leaving the morning service. Over 20 believers were injured, one of whom later died in hospital. The bomber was reportedly a member of an Islamist militant cell in Cirebon, West Java. Security has been heightened and police will now screen all church visitors. The following day, police found a similar bomb outside the Maranatha Church in Ambon city, on the island of Ambon.
With a lack of will on the part of the government, extremism has constantly grown in Indonesia since the fall of the authoritarian President Suharto in 1999, who kept radical groups under control.
Please pray for healing for those injured. Pray for God's comfort for those grieving. Pray the Lord will give wisdom to the church leaders to know how to comfort their church members. Pray against further unrest in this nation.
To learn more about the persecuted Church in Indonesia, go to the Indonesia Country Report.