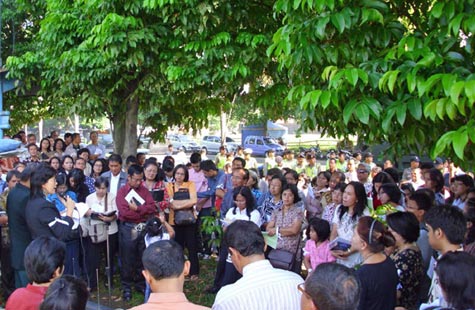 Reports against Christians in Indonesia increased in 2011,
such as the officials sealing this church in Bogor, West Java.
Photo: Compass Direct News

Acts of violence and intolerance against Christians in Indonesia almost doubled in 2011. The Indonesian Protestant Church Union counted 54 acts of violence and other violations against Christians in 2011, up from 30 in 2010. The number of such incidents against religious minorities in general also grew, from 198 in 2010 to 276 in 2011. The worst is perhaps yet to come if authorities continue to overlook the threat of extremism, said a representative from the Jakarta-based Wahid Institute, a Muslim organization that promotes tolerance.
Indonesia's hot-bed of extremism is West Java, the most populous province that includes the nation's capital city of Jakarta. This province alone witnessed 160 incidents against religious minorities. Churches in West Java, where there are approximately 520,000 Christians, also suffered the most last year. On Christmas Day, two churches in West Java's Bogor city bore the brunt of growing extremism. "Islamist vigilantes screamed and yelled at us and threatened us, as we sought to hold a Christmas service," a leader of the Gereja Kristen Indonesia told Compass.
Pray believers will be encouraged to continue to meet together despite opposition (Hebrews 10:23-25). Ask the Lord to continue to grow His church in number, wisdom, understanding and faithfulness. Pray for those who oppose the gospel in Indonesia.
Go to the Indonesia Country Report for more on persecution in Indonesia.