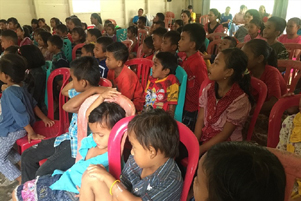 The New Testament Christian Church in Central Java was meeting for worship on February 16th when protesters entered the building and demanded that the church service stop. As the demonstrations continued, police arrived to mediate. The pastor received permission to finish the service and meet with the opposing community members later.
That afternoon, the pastor met with the protesters, along with police and Islamic leaders from the Indonesian Clerics Council, who insisted that the building not be used for Christian activities. Even though the pastor did not sign an official agreement, the church was ultimately forced to close. Further information on the persecution experienced by Christians in Indonesia is available here.
Pray that the Lord will uphold the faith of these believers and that they will be able to continue meeting together. Ask Him to give wisdom to the church leaders as they endeavour to handle the situation, while seeking alternate ways to effectively minister to the members of their community. Despite the opposition, may the message of the Gospel be spread throughout the area -- touching the hearts of even those opposing them.