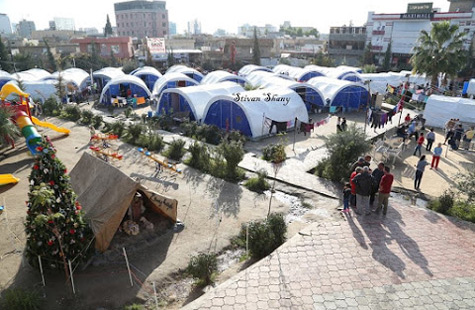 Displaced Iraqis set up a tent for Jesus in their refugee camp.
Photo: Stivan Shany via FRRME.org


A trusted ministry partner of VOMC recently provided the following encouraging update: "An evangelical worker shared with us that many Muslims are very open to the Gospel now. Since ISIS began its terror raid on Mosul and surrounding cities and villages, thousands have fled to safe areas. Many of those who have responded with aid (to the immense needs of these refugees) are Christians from the West. Because of the kindness and love shown to the Muslim people, many hearts are open to the Gospel like never before. Another important dynamic is the brutality of the Islamic terrorists which has caused Muslims who do not support this group to turn away from Islam and instead place their faith in Jesus of the Bible.
"The Christian worker further told us that he visited more than 100 Muslims who are close to becoming believers in the Lord Jesus. It is exciting to see this openness! A strong prayer point can be found in Matthew 9:37-38 where Jesus said the workers are few. Because large numbers are coming to faith, there is a need for mature Christians who are able to disciple these new believers."
In the above mentioned Scriptural passage, Jesus is quoted as stating: "The harvest truly is plentiful, but the labourers are few. Therefore pray the Lord of the harvest to send out labourers into His harvest" (NKJV).
Praise God for the ways in which He is moving in Iraq, despite the horrors inflicted upon the people by ISIS. May His love and grace continue to abound within the hearts of the Iraqi people, resulting in a great harvest. Pray, too, that the Lord will equip many "labourers" for this harvest -- pastors, teachers and other mature Christians -- to encourage and disciple the growing church in this beleaguered area of the world. As you intercede for the country of Iraq, ask that the plans of the militant group be thwarted and that the establishment of God's peace and stability will instead prevail for all of its people.