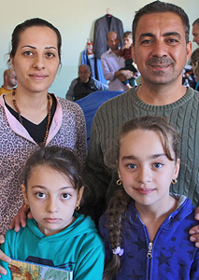 Mohammad, Sara, and
their two daughters,
Samantha and Melody



Christians throughout Iraq have been forced to leave their homes and livelihoods behind as they flee from militants ravaging the country.
Mohammad, Sara and their two children had to flee their home in Mosul when the city was overrun by Islamic militants. Heartbreakingly, the family was already grieving the recent sudden death of their seven-month-old child. Just days after their child's death, they witnessed an attack on their church that killed three and injured 12. Though they themselves were not physically injured in the attack, Sara has since experienced frequent nightmares. The family later fled to Kurdistan where they now live in a makeshift home consisting of 78 people. "Even though we escaped with our lives, I feel like we are in a prison here," Mohammad shared. "I don't mean to be unthankful, but I am desperate for work to support my family in any way."
Another refugee named "Waleed" fled his home after militants threatened to kill him for questioning the Quran. After reaching the country of Lebanon, he was directed to several VOM partners who told him about the Gospel. Waleed soon committed his life to Jesus and has since shared the message of salvation with his mother, brother and some friends. He now actively ministers to Assyrians, Iraqis and others in Lebanon, with hopes of returning to Iraq one day to share the Good News in his homeland.
In the midst of such chaos and upheaval in Iraq, let us rest in the sure knowledge that our Lord is ultimately in control and that He will restore our world in His perfect timing. Until that day, pray for an outpouring of His peace and grace over the many thousands of refugees who have been forced to flee their homes. Ask God to open doors of opportunity for Mohammad, Sara and their children so they can begin to rebuild their lives. May the Holy Spirit also minister to their broken hearts, healing the emotional wounds they have endured. Praise God for reaching out to Waleed and drawing him into our Christian family! May he be used mightily to share the Good News with those still living in spiritual darkness. Specifically intercede on behalf of his family, praying that they will come to faith in Christ as well.