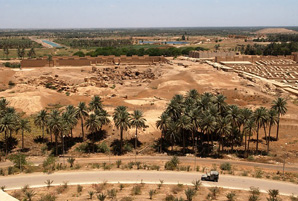 Hundreds of Iraqi Christian families had recently returned to their hometown of Teleskuf, after being displaced for years due to attacks perpetrated by the self-proclaimed Islamic State (ISIS) terrorist group, only to be forced to flee their northern Iraq community all over again. These families have since relocated to Alqosh and other Christian villages in the Nineveh Plains where they are now seeking refuge from the internal conflict that's presently taking place -- this time, between two of the country's governmental factions.
The town of Teleskuf, which is located about 30 kilometres north of Mosul, initially fell into the hands of ISIS terrorists in 2014. Yet, since its liberation last year, the town was rebuilt with the help of the international community; in particular, the Hungarian government. The collaborative rebuilding efforts made it possible for many Christian families to return to their homes.
However, now that rising tensions are taking place between the Central Government in Baghdad and the Kurdish Regional Government, there is a deepened level of sectarian strife in the rest of Iraq. Many civilians have been wounded in the conflict, resulting in the mutually shared security concerns of leaders representing various religious, political and civil society groups -- along with numerous internally displaced persons -- over the country's troubling situation.
In light of the chaos that has ensued in Iraq, we join in the urgent prayers of His people for the need of peace in this country, especially in areas where the conflict is prevalent. May God help those from the town of Teleskuf overcome the severe trauma they have endured by strengthening their faith and ensuring their needs for safety and provision are amply met. Additionally, intercede for Iraq's political leaders, asking the Lord to grant them wisdom, diplomacy and direction as they seek to govern the country justly and for the overall betterment of the people.