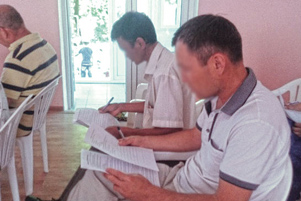 A young Christian in the village of Tamchi, Kyrgyzstan, was left fighting for his life after three Muslim men badly beat him on October 17th. The attackers cornered Eldos, a 25-year-old convert from Islam, and attempted to force him to recite the shahada, the Islamic creed used to signify conversion. When Eldos refused, he was viciously beaten, leaving him with a concussion, fractured jaw, missing teeth, and an eye injury.
According to reports, police stated the attack was not religious but due to the loud music the young man was playing. They claimed to have a verbal statement from Eldos to that effect, though his lawyer asserts that the assaulted young man was unable to speak at the time due to the extent of his injuries. At last report, Eldos was in hospital where he has undergone surgery to reconstruct his jaw.
May justice be done in this case, despite the apparent obstruction by the police. As Eldos now recovers from the violent assault and resulting surgery, please pray for his complete physical healing, along with needed emotional strength and comfort. Ask God to bring conviction to those responsible for the crime, that they may turn to Him for grace and forgiveness.