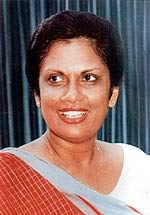 Chandrika Bandaranaike Kumaratunga,
President of Sri Lanka
An amendment to the Sri Lankan constitution scheduled for second reading on October 4 has been delayed because of a lack of support for the debate. While the private member's bill was not taken up this time, it is possible for it to be taken up at a later date.
The JHU, a political party composed entirely of Buddhist monks, has reacted strongly to reports that the government will shelve their anti-conversion bill. They accused the United States of "interfering in religious affairs and human rights in the country." It is likely that the government will want to avoid this controversy at this time because of presidential elections on November 17.