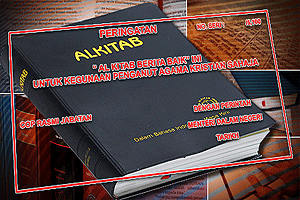 A seized Bible is stamped with the
inscription "For Christians Only."
Two shipments totaling approximately 30,000 Bibles detained by Malaysian port authorities in January (click here for more information) were recently released. Authorities seized the Bibles, which had been imported from Indonesia for distribution in schools, churches and longhouses, because they claimed they could cause a conflict with an ongoing court case involving use of the word "Allah" in a Catholic newspaper. Most Christians, however, believe the government is worried that the Bibles will be distributed to Muslim Malays, and see the seizure as part of a systematic plan to deny access to the Bible in Malay. Authorities had taken similar action in March 2009, when they detained 5,100 copies of the Good News Bible in Malay in Port Klang.
The government's decision to release this recent shipment came with the condition that the books are stamped with a serial number and the inscription "For Christians Only" on the cover. Malaysian Christian leaders have refused these terms, fearing the government would use the serial numbers to track the Bibles and penalize those who accepted them. At last report, the Malaysian Bible Society has rejected the restrictions placed on the Bibles and is refusing to collect them.
Praise God for the release of these Bibles. Pray Christians in Malaysia will remain faithful in spite of opposition from those in authority. Pray they will know that they are not alone, but part of the Body of Christ. Pray these Bibles will somehow get into the hands of those who long for the life and truth found through Jesus Christ (John 14:6).
You can learn more about the challenges facing Christian in Malaysia at the Malaysia Country Report.