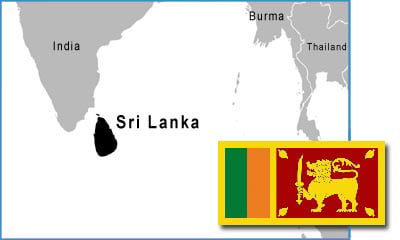 Sri Lanka is an island off the southern coast of India and home to 20.45 million people. Its 30-year-long civil war came to an end in May 2009, amidst allegations of atrocities committed against civilians by government forces and the militant group, Liberation Tigers of Tamil Eelam. Following the conclusion of the war, the ruling administration pursued a campaign of silencing dissent, restricting fundamental freedoms, and inciting majoritarian sentiment (a political philosophy that asserts special privileges for a particular majority group within society).
While 7.2 percent of Sri Lanka's population represents Christianity, just over one percent of this group is considered evangelical. The persecution of Christians in general has escalated since the end of the civil war, with the rise of militant Buddhist nationalist groups such as the Bodu Bala Sena. Additionally, there has been an increase in the involvement of local government and law enforcement officials in perpetrating acts of persecution. Religious freedom violations include cases of intimidation, discrimination, threats, violence, false allegations, legal challenges, registration issues, demands for church closures, police inaction and demonstrations. Incidents of persecution targeting Christians are also rarely reported in the mainstream media.
Although the constitution guarantees religious freedom, it gives precedence to Buddhism, and further places an obligation on the government to foster and protect the Buddha Sasana (Buddhist doctrines). Moreover, political parties such as the Jathika Hela Urumaya, a party comprised almost entirely of Buddhist monks, have attempted in the past to introduce anti-conversion laws. While these proposed laws were not passed by parliament, extremist elements continue to call for such regulatory legislation to be implemented.
Sri Lankan law does not require the registration of existing places of worship or religious bodies with the state. However, a circular dated October 2008 and issued by the Ministry of Buddha Sasana and Religious Affairs demanded that all "new constructions" of places of worship should obtain government approval, instructing Provincial Councils and Divisional Secretaries to comply with this requirement before approving applications.
This circular resulted in evangelical Christian churches being routinely denied permission to construct places of worship solely because they failed to get approval. While the 2008 circular is clearly applicable only to new constructions and does not have retroactive effect, it is often misapplied and used by government officials to close down existing churches.