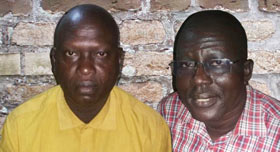 Rev. Yat Michael and Rev. Peter Reith
Photo: CSW
Two South Sudanese pastors on trial in Khartoum had their latest hearing on July 2nd. During the hearing, the judge questioned Rev. Yat Michael and Rev. Peter Reith, inquiring as to why they should be involved in Christian ministry within an Islamic country. He then ruled that their case will continue on July 14th, during which time they are to be tried on all charges -- two of which carry a death sentence or life imprisonment. The lawyer representing the two pastors has been denied access to them.
Rev. Michael and Rev. Reith were arrested in December 2014 and January 2015 respectively and charged with multiple offences, including undermining the constitutional system and espionage (offences that carry the death penalty) and blasphemy (which may be punished by whipping). For a previous report on their arrest, please click here.
In another incident, Pastor Hafez of the Evangelical Church in Bahri (where Rev. Michael had preached before his arrest) and Mohaned Mustafa (the lawyer representing the church and both previously mentioned pastors) were arrested on July 1st and detained briefly before being released on bail. On the order of government officials, the authorities had come to destroy part of the church complex. When Pastor Hafez and the lawyer complained that the government employee was attempting to destroy a part of the church compound that was not within the government order, they were both arrested for obstructing a public servant in the exercise of his duties. The government employee continued to destroy the part of the compound that was not within the order.
The lawyer was driven to the police station but the pastor was made to walk there in handcuffs. During his detention, Pastor Hafez was hit on the side of his head with a gun. After his release, he needed to go to the hospital for x-rays. It is not yet known when the case against Pastor Hafez and the lawyer will be brought to court.
Please uphold all three pastors and the representing lawyer, Mohaned, who are in need of God's divine peace, protection and intervention. Ask the Lord to go before the upcoming trial, preparing the hearts of all those involved in this case so that it may be conducted in a just and reasonable manner. May the outcome be favourable for all of these genuine servants of the Gospel. Also remember the church in Sudan as a whole, praying that the country's believers will not lose heart but rejoice in the midst of opposition, embracing the opportunity to be strengthened spiritually, further develop in Christ-like character, and bring glory to the matchless name of Jesus (James 1:2-4).