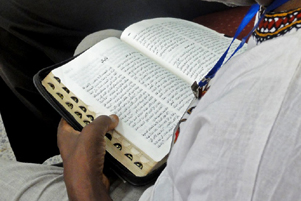 Sudanese Christians are asking for prayer after a group of 12 believers were arrested on October 13th in Nyala, South Darfur. As the Christians were gathered together, officers from the National Intelligence and Security Services entered and asked if they were Christians. After confirming their faith, all the confessing believers were detained. Upon further interrogation, the three from a Christian background were released but not those who had converted from Islam.
For the next week, the nine converts faced severe pressure and torture. They were assured that, if they chose to recant and express their return to Islam, they would be freed. Finally, all but one gave in and recanted rather than face a possible death penalty for apostasy. They were released on October 21st. The one remaining, a church leader named Tajadin Idris Yousef, was charged with apostasy and released on bail the next day. Reports do not give a specific date for his court appearance.
Pray for these Christian converts and others facing uncertainty and threats from government officials. May they know the peace, strength and grace that comes from God, who embraces all who rest in Him. Pray that Tajadin will be able to stand confidently in the face of these charges and the threat of a death penalty, knowing Christ's presence is with him (Daniel 3) and that the Holy Spirit will be his advocate.