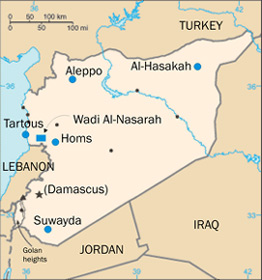 Islamic State (IS/ISIS) militants have recently captured hundreds of unsuspecting Syrians after seizing the strategically located town of Qaryatain -- located in the central Syrian province of Homs -- on Friday, August 7th. At least 230 people were kidnapped or detained, including dozens of Christians, some of whom were taken from the Dar Alyan monastery.
Among those seized were 45 women and 19 children, including 11 families. A number of the abducted victims were on a list of persons suspected by the militant group of "collaborating with the regime." The families of hundreds of Christian and Muslim residents from Qaryatain have lost contact with their abducted loved ones since ISIS militants captured the area. There are concerns that the militant group may also target other Christian population centres in Hawwarin and Sadad.
Towns like Qaryatain are susceptible because they are located along the Damascus-Homs Highway, a route used to ferry supplies and fighters. The Syrian army launched a large-scale counter offensive to recapture the city, which lies in a region where some of Syria's largest gas fields are located, but so far has made no significant advances.
This past February, the hardline jihadists abducted at least 250 Assyrian Christians, the majority of whom were women and children, during raids on villages in northeastern Syria. The fate of many remains unclear, as is the outcome of numerous priests who had gone missing and are believed to still be in captivity. For a previous report on the February 2015 incident, you may click here.
Pray for the Lord to strengthen, protect and uphold the alarming number of Syrians who are being forcefully held captive by ISIS militants. May they not despair but trust explicitly in Him during this time of urgent crisis. Pray that He will miraculously provide deliverance from their captors, reuniting them with their distraught loved ones. May the suffering that's being experienced by so many victims and their families somehow be used for ultimate good and greater blessing (Romans 8:28), also serving to open the spiritual eyes of multitudes in the Middle East and around the world who are in desperate need of our Lord's salvation -- including the members of Islamic State.