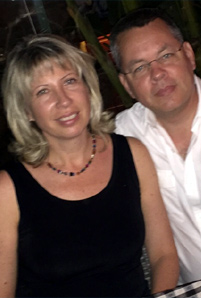 Andrew and Norine Brunson were detained in Turkey on October 7, 2016 on alleged "national security" grounds. Norine was subsequently released, but authorities continue to hold Andrew in custody on a list of "absurd" and "political" charges.
Norine's Facebook update on July 2018 read;
"Andrew was remanded to prison until his next hearing, October 12, when two more secret witnesses, one more prisoner and at least one other witness will testify against him. I know his heart must be broken tonight, again.
On the positive side, the name of the Lord was absolutely glorified!!!... As he explained why he was here, he gave the gospel. He publicly forgave all those who have come against him, forgiving as he has been forgiven. He said 'It is a privilege to suffer for the sake of Christ. Blessed am I, as I suffer for him. Blessed am I, as I am slandered. Blessed am I, as I am being lied about. Blessed am I, as I am imprisoned. Blessed am I, as I share his suffering.' I am incredibly proud of him as I am quite sure he doesn't feel that blessing at this point.
There have been many prayers for the legal side of things, but let's just pray for a miraculous release."
He was transferred from prison to house arrest on July 25 as a result of a court order citing health concerns. He is to remain there until his hearing in October.
While we praise God for this improvement, we continue to pray for his full and unconditional release. Please join us in praying that he and his family will be miraculously strengthened to glorify God through their consistent testimony for Him.