Country Information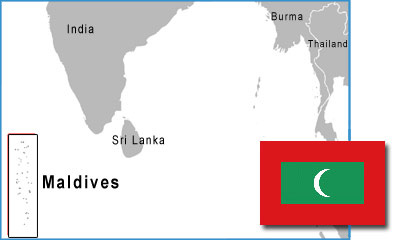 Population
392,473 (July 2018 est.)
Ethnicity (%)
Sinhalese, Dravidian, Arab, Australasian, and African
Religion (%)
Sunni Muslim (official)
Leader
President Ibrahim Mohamed Solih

Government type
Presidential Republic
Legal system
Islamic religious legal system with English common law influences, primarily in commercial matters
Source: CIA World Factbook
Pray for Maldives
Pray for Maldivians who believe -- for their protection and courage in the face of great trials and for opportunities to grow in and spread their faith.
Pray that the religious freedom of Maldivian Christians will be recognized.
end
Select a Region
Maldives News
Parliament building in Male, capital of the Maldives.
Photo: Compass Direct News

Police in Maldives arrested and held Shijo Kokkattu, a 30-year-old teacher from India, for more than two weeks before deporting him earlier this month for keeping a Bible in his home, according to a foreign source in th

...

Other than Saudi Arabia, the Maldives is the only nation that claims a 100-percent Muslim population. However, the Indian Ocean archipelago featuring 1,192 islets southwest of Sri Lanka has more than 70,000 expatriate workers representing several non-Islamic religions, including Christianity. Those

...