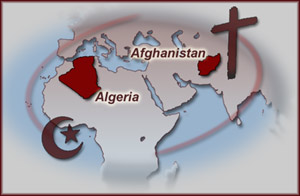 Christians came under fire in Algeria and Afghanistan in recent weeks by Islamic scholars who have called for government crackdowns on Christian activity in the countries.
In Afghanistan, members of the Afghanistan Islamic Council warned President Hamid Karzai not to allow foreign missions into the country, especially to the impoverished areas. The council claimed that missionaries in Kabul and in the provinces were forcibly converting Muslims, enticing them by giving them Bibles and promising to send them abroad. The Islamic scholars warned of serious consequences if the government did not stop Christians from preaching and evangelizing.
In Algeria, the head of the Algerian Association of Muslim Scholars, Sheikh Abdul-Rahman Al-Shayban, called on officials to counter Christian missionary campaigns, claiming they had "reached the point of aggressions against Algerians." According to the Arabic TV station, "Al Arabiya," Shayban called for the crackdown under the religious practice law for non-Muslims, claiming that Christians in tribal villages give people money and university scholarships for converting to Christianity and that the Protestant church rewards its clergy for every Muslim that is converted.
Ask God to thwart the attempts of those who seek to hinder His work in Afghanistan and Algeria. Pray that His servants in these countries will be emboldened to carry on their service to Christ wherever God leads them. Pray that those who accuse Christians of forcible conversion will see that that the Gospel message is one of a free gift, not coercion (Ephesians 2:8-9).
For more information on the persecution of Christians in these countries, go to Afghanistan's Country Report and Algeria's Country Report.