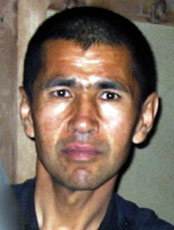 Said Musa
Said Musa, who was imprisoned for converting from Islam to Christianity, is reportedly facing execution. A 15-year employee of the International Committee of the Red Cross in Kabul, Afghanistan, Said, 45, was arrested on May 31, 2010, after a television station in Kabul broadcast images that allegedly showed Western Christians baptizing Afghans. Since his arrest, he has remained in Kabul Detention Center, where he has reportedly suffered sexual assault and torture and been denied access to a lawyer.
In the second week of February, an Afghan judge reportedly informed Said that he would be hanged within days if he did not renounce his faith in Christ and reconvert to Islam. Godfrey Yogarajah, the Executive Director of The Religious Liberty Commission of the World Evangelical Alliance, recently called attention to the illegal and unjust treatment of Said. "The arrest of Said in the first place and the subsequent demands for death for apostasy violate at least three provisions of the Constitution of Afghanistan," he said. Said's trial is reportedly the first for apostasy that has reached near execution since the Taliban's fall.
Pray for God's enduring comfort and peace for Said in prison. Pray that, even in chains, he will exalt and praise his Lord -- a God of compassion, justice and truth. Pray for his release. Pray also for Said's wife and six children, who fled to Pakistan after his arrest, that they, too, will continue to find strength in Christ.
To find out more about the opposition facing followers of Christ in Afghanistan, go to the Afghanistan Country Report.