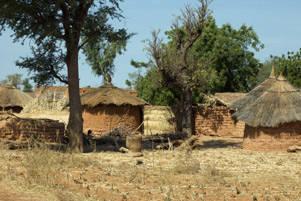 A major humanitarian crisis is taking place in the African nation of Burkina Faso, as Islamic militants slaughter innocent civilians and force many others to flee. Estimates indicate that more than 500,000 people have been displaced in the past year alone. Two recent attacks highlight this ongoing violence which is often targeted against Christians.
On January 25th, an attack happened in the village of Silgadji, the same city where a pastor and five others were assassinated last April after refusing to deny their Christian faith. (A report on this previous incident may be reviewed here.)
Armed militia surrounded people in the village market. Separating the men from the women, they ordered the women to leave the village and then proceeded to kill the men. While the final numbers are yet to be determined, the death toll could be as high as 50. According to one contact, the gunmen drove through the town threatening to kill anyone who would not convert to Islam.
On February 1st, at least 18 people were killed in the town of Lamdamol. The unidentified militants arrived late at night on motorcycles and selectively picked out civilians before killing them. One of the victims was Robert Milogo, a Christian nurse who had travelled to the area despite the danger to provide medical assistance.
In the aftermath of these and other attacks, please pray that the Lord will minister greatly needed comfort and strength to the families and friends who are grieving the loss of dear loved ones. Ask Him to protect the Christians remaining in the area, whether they be residents or humanitarian aid workers, and to provide for those who have been forced to flee. May the authorities be able to quell the flow of militants intent on causing violence from entering the country and, with God's wisdom and guidance, serve as catalysts of His peace and reconciliation throughout Burkina Faso.