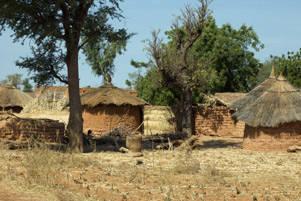 Christians in northern Burkina Faso are being systematically exterminated or expelled from their villages by Islamic militants. In a recent incident that took place in the villages of Hitté and Rounga, the inhabitants were ordered to convert to Islam or abandon their homes and flee.
According to a local source, 16 men arrived at Hitté in early September. Christian villagers were forced into the church building where they were threatened. These believers were told they had three days to leave their homes. Militants then went to Rounga with similar demands. Almost 2,000 people were forced to flee their homes, finding temporary shelter at a school in the village of Ouindigui.
Thankfully, the extreme views of the attackers are not shared by the majority of inhabitants in the area. Many of them, including local Muslims, have joined in solidarity to help provide for the Christian refugees' basic needs. Similar attacks are also happening in neighbouring Mali, Niger and Nigeria, as militants seek control of large areas in West Africa.
Lift up these displaced Christian villagers in your prayers. May their physical, emotional and spiritual needs be met. Pray that they will be able to return to their homes in safety. Praise God for those of the local community who have compassionately rallied together to provide needed support for the refugees. Also intercede for the leaders of these nations as they endeavour to restore peace and stop the years of ongoing violence.