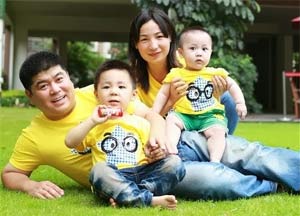 Cheng Jie and her husband,
Du Hongbo, with their young children.
Photo: Du Hongbo via ChinaAid
Three Christians were recently sentenced to two years in jail for their involvement in a church-run nursery school. Additionally, the printer who produced the "illegal" Christian textbooks for Hualin Kindergarten was sentenced to 21 months in prison. Those convicted included kindergarten director Cheng Jie; church elder Huang Quirui; and church member Li Jiato, a mother of two young children. Each of these believers was also fined.
The four participants were convicted in late April of "illegal business operations" at Hualin Kindergarten, which is located in southern Guangxi region. The nursery was run by Liangren Church in Guangzhou whose congregation has suffered intense persecution. The church reported last year that almost its entire core staff had been detained after church members were involved in an outreach to a neighbouring region. Several kindergartens and businesses linked to the church were also raided or shut down.
Please bring these four individuals to our Lord in prayer, asking that He surround each one of them with His peace and grace as they now face prison sentences and fines. Ask that He make a way for their early release from detention. Yet, whether imprisoned or free, may these persecuted Christians continue to serve faithfully wherever they happen to be -- telling others about the hope they have received through Christ. As a result, may their personal witness be used to effectively draw many others in China into a saving relationship with Him.
To learn more about China's persecuted church, visit this page.