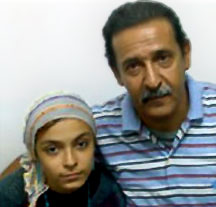 Maher Ahmad El-Mo'otahssem Bellah El-Gohary
and his daughter
Photo from Compass Direct
A convert to Christianity from Islam, Maher Ahmad El-Mo'otahssem Bellah El-Gohary (56), is currently involved in a legal battle to obtain identification papers that recognize his Christian faith, according to a February 26 report from Compass Direct. More than 20 Islamic lawyers attended a February 22 hearing where they advocated that El-Gohary be convicted of apostasy and sentenced to death. The lawyers submitted memos that allegedly asserted that cases like El-Gohary's were part of a U.S. Zionist attack on Islam in Egypt. The documents also claimed that Christianity is inferior to Islam and stated that Christians protect and defend converts from Islam at their own peril. Fearing an attack, El-Gohary did not attend the proceedings. He had attempted to obtain papers authorizing his attorney to act as his proxy representative in court but when he went to the registry office to sign the papers he was beaten by officials. El-Gohary has been attacked several times during his legal battle and he and his 14-year-old daughter have received death threats. At last report, he was in hiding.
El-Gohary's fight for legal recognition of his Christian faith was sparked by his concern for his daughter, who will be issued her national identity card in approximately a year. Unless his documents are changed, she will be subject to Islamic law, which would include denying her the right to marry a Christian. At present, she has to attend Islamic classes at school despite her Christian faith.
Pray for safety and protection for El-Gohary and his daughter. Pray that Egyptian Christians will be allowed to express their true religious identity in a spiritually hostile environment.
For more information on the persecution of Christians in Egypt, go to the Egypt Country Report.