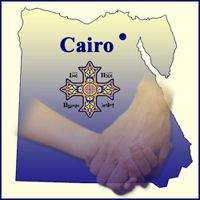 Raheal Henen Mussa (22), an Egyptian convert to Christianity from Islam, was arrested on April 13 for violating Islamic law by marrying a non-Muslim, Sarwat George Ryia, according to an April 23 report from Compass Direct. Mussa was apprehended while on her way home from work and was detained in a station operated by the secret police until April 19, when her Muslim family came for her. Since Mussa was born into a Muslim home, she is considered a Muslim despite her conversion to Christianity three years ago. Consequently, she was unable to officially marry Ryia, a Coptic Christian. Mussa was able to escape from her family on April 21 and fled Cairo with her husband. At last report, the couple was in hiding.
Ask God to protect and strengthen this couple. Pray that the Egyptian government will recognize the religious freedom of its citizens.
To learn more about the persecution Christians face in Egypt, click here.