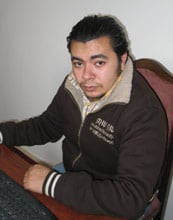 A lawsuit filed by Mohammed Hegazy (27) to change the religion on his identification card from Muslim to Christian was recently suspended by an Egyptian court (click here for more information). The case has been suspended until the Constitutional Court rules on a challenge to Article 47, a section of the civil code that, in theory, allows Egyptians to change the religion listed on their ID card. Mohammed fears that the court's suspension endangers his children's welfare and will force them to lead a double life indefinitely. "I didn't want them to have to go through the same harassment and persecution that I went through," he said. "My daughter won't be able to go to school without constantly fearing for her safety. She might even be killed simply because she is my daughter." (Source: Compass Direct)
Pray for continued endurance of faith and protection for Mohammed, his wife and their children, ages two years old and three months old. Pray that Mohammed's identification card will successfully be changed to Christian. Pray that his case will embolden others to advance religious freedom in Egypt.
To find out more about persecution in Egypt, click here.