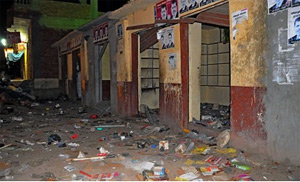 Coptic stores such as these are being destroyed in Egypt.
Photo: AINA



Two government employees were killed for refusing to pay Jizya, a Muslim poll tax inflicted on Christians by the members of the Muslim Brotherhood. On September 12th, at around 10 a.m., a gang of militant Muslims fired bullets at the house of Emad Damian, 50, who was present in his home at the time of the shooting, along with his cousin Medhat Damian, 37. Both of the deceased men were from the village of Sahel Selim in Assuit Province.
Two days prior to the shooting, Emad received a phone call from Ashraf Ahmed Mohammed Khalajah, a Muslim gang leader and registered criminal. Ashraf demanded 10,000 Egyptian pounds (about $1,450) for weapons, threatening to kill Emad if he did not pay. Although Emad had reported the threat to the police and requested protection, no action was taken. Both of the victims leave behind grieving wives and children.
Numerous Christian activists have spoken out against the Jizya tax which, according to Islamic law, is to be applied to "conquered non-Muslims." Since the ousting of President Mohammed Morsi, Muslim Brotherhood gangs in Egypt have been forcing Christians to pay this tax, allegedly to safeguard them from any violence and vandalism being directed toward their homes and businesses. This is also a major problem in the village of Delga (Minya province) where the "protection" tax charges can range anywhere from 200 to 500 Egyptian pounds daily, exorbitant amounts for many of these villagers. Learn more about the country's political and spiritual climate by reviewing the Egypt Country Report.
Pray for the wives and children of Emad and Medhat...that God will greatly comfort them, provide His protection, meet their needs, and take away their deepest fears. Also lift up other suffering believers there in Egypt who are struggling to survive in such a volatile environment. May they remain faithful, trusting for the Lord's protection and provision upon their lives as well. Ask for the Holy Spirit's conviction to take place in the hearts of those who are imposing such harsh demands on His persecuted people, inflicting even more unnecessary hardship on them. This includes Ashraf and his gang who clearly need a divine encounter with the Living God and supernatural deliverance from evil.
Egypt Update: According to recent reports by "The Washington Times" and "The Associated Press," police have arrested the Muslim Brotherhood's main English-speaking spokesman, Gehad el-Haddad, along with other senior members of the group, for inciting violence. Gehad is the son of Essam el-Haddad, a senior foreign policy aide to Mohammed Morsi. The father has reportedly been held in an undisclosed military facility with Mr. Morsi since the coup. Thank you for praying.