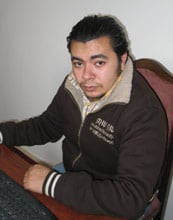 Bishoy Armia Boulous
(formerly Mohammed Hegazy)
A convert to Christianity who was sentenced to five years in prison for documenting attacks on believers has won a partial victory on appeal, but must remain in jail because of prior blasphemy charges.
On December 28th, an appeals judge found 31-year-old Bishoy Armia Boulous (previously known as Mohammed Hegazy) not guilty on a charge of spreading information meant to "cause harm or damage to the public interest" and not guilty on the closely related charge of spreading false news "bound to weaken" Egypt's "prestige" or harm the "country's national interests." Bishoy, however, was found guilty of an unidentified charge (likely that of inciting sectarian strife) and sentenced to one year in prison.
Since Bishoy has already spent more than a year in prison while waiting for his trial and appeal to take place, technically, he should have been granted release at the conclusion of the recent hearing. Instead, Bishoy has been held without an opportunity to post bail because of the blasphemy charges filed against him five years ago by two Islamist lawyers. His attorneys believe the state, in effect, has taken an active role in punishing Bishoy for his conversion by holding him on charges past their statutory limit and, as mentioned, doing so without any possibility of bail. Sources have also reported that Bishoy has endured abuse while imprisoned, including verbal and physical assaults and times of solitary confinement. (For more information on Bishoy's imprisonment, visit our website.)
Despite this disappointing news, please pray that Bishoy will remain confident in his Saviour and Lord, knowing that true freedom is only found in Him. Yet, as he serves this remaining sentence, let us continue praying for his physical freedom from prison, so that he may very soon be allowed to return home to his struggling wife and young children. Please intercede on behalf of those who have brought all these charges against Bishoy, as well as the guards abusing him, that they may also come to know Jesus Christ as their Redeemer!
For more information about the trials our Christian family faces in Egypt, read our Country Report.