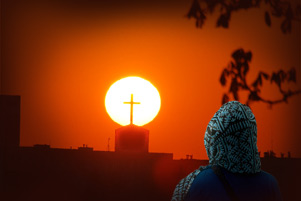 A Christian mother was struck with fear last November when her Muslim brother arrived at the church she attended with a photo of her husband, asking members if they knew where he could be found. Less than two years before, Ebtehaj Mostafa had been tied to a chair in a darkened room. The abductors gave her an ultimatum: return to Islam or they would kill her husband and daughter.
Ebtehaj had fled from Sudan in 2005 after being jailed five times for her faith in Christ. In Cairo, she met a Sudanese pastor, also a convert from Islam, and the two married. But her life remained in danger, as Ebtehaj discovered in February 2017 when she was kidnapped. At the time, the Christian woman's abductors shouted that she was a disgrace to her family. During the attack, they mandated she divorce her husband and return to her Sudanese family, then living in Saudi Arabia.
After stating that she would rather die than return to Islam, the two men raped Ebtehaj and beat her repeatedly. Joined by two other perpetrators, they eventually grabbed the assaulted woman's hand and forced her signature on a paper claiming that she had returned to Islam. She was then knocked out and left unconscious, only to later awaken on the streets of Cairo.
With the recent arrival of her brother in the city, there are renewed concerns for Ebtehaj's safety. However, she is trusting God and wants to tell her story so the international community would know what kind of pressures face Sudanese converts to Christ.
Pray for the safety of Ebtehaj and her family. May those opposing her faith experience a profound revelation of Jesus Christ as God's promised Saviour to the world, recognizing their own need to trust in Him for their salvation. Also remember other converts to Christ from Sudan who are being pressured to return to Islam or die, asking Him to reassure them of His strength and provision for their every need.