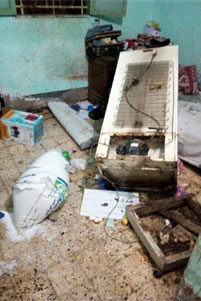 In early June, posts critical of Islam showed up on the Facebook page of Fady Youssef Todari, a 25-year-old young man from Giza. When he noticed the posts, he was quick to announce that his Facebook account had been hacked and, as a result, posted a video message apologizing for any disdainful messages that had occurred. Despite this, militants in the village called for revenge.
Hundreds of Muslim protestors gathered on June 10th and marched to the homes of Fady's father and uncle. While both homes were damaged by the mob, the home where Fady lived with his father was destroyed.
Following the attack, police arrested 25 of the attackers. The next day, Fady, his brother, and their two uncles, were also arrested. After the arrests, a meeting was held at the police station in an attempt to establish peace. It was agreed by those present to allow investigations to continue and that the individuals considered guilty would be punished. For more reports on the persecution facing Christians in Egypt, visit this page.
Please intercede for Fady and his family as they face these allegations. Also pray for the authorities as they try to bring peace in this situation, resulting in good relations between neighbours of differing faiths within the community. May those responsible for the destruction of the homes be held accountable, in hopes of them recognizing their own need for a personal relationship with the "Prince of Peace."