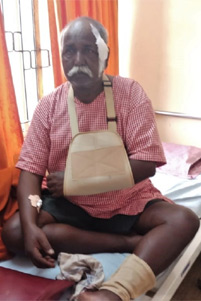 In areas throughout India, as well as Burma, Christmas was not a season of peace and joy. Christians faced violence and resulting injuries, as those opposed to the message of Christ stoned, slashed and terrorized local believers.
In the Kanta Kawn Township of Central Burma, 27 Christians had gathered together in a home for a Christmas service on December 17th. As they prayed, villagers surrounded the house and began throwing stones. They then broke into the house to vandalize it. Along with causing damages to the home, motorbikes, furniture and dishes, the perpetrator injured six of the worshippers.
At least 18 incidents were reported in four different Indian states. The worst attack was in Kowad village of Maharashtra. Around 20 men armed with sharp objects barged into the worship service of the New Life Fellowship Church on December 23rd and began slashing those in attendance. As a result, seven Christians were admitted to the intensive care unit of the hospital. The injuries could have been far worse had it not been for the quick thinking of Pastor Chavan's mother, who threw ground red pepper in the faces of the attackers to thwart the violent assault.
In Haridwar, Uttarakhand, a mob from the militant Hindu group Bajrang Dal stopped four buses that were transporting 200 children to a Christmas Day program. The militants demanded the arrest of the teacher, claiming the children were to be forcefully converted. Police were called and the teacher, a Hindu, was arrested but later released. All the children, who are Hindus from the slums, were simply going to view the Christmas program as a special seasonal outing.
Several similar allegations were made in Uttar Pradesh, where police were "exhausted" from calls alleging that children were being forcefully converted during the Christmas programs. In one station alone, police received at least 25 to 30 phone calls. The volume of the calls suggests a coordinated effort from militant Hindu organizations to disrupt Christmas activities.
Despite the coordinated efforts of those in opposition to the Gospel, we praise God that the message of 'peace on earth' is continuing to reach many spiritual seekers in both Burma and India. Pray that the victims injured in these recent attacks will recover quickly. May all who've had the opportunity to hear the message of the Promised Messiah personally experience a revelation of God's tremendous love for them and willingly respond by accepting His wonderful plan of salvation for their lives.